2021年6月8日下午,孙万松秘书长代表国际大学创新联盟(IUIA)与中科院自动化研究所脑网络组研究中心主任蒋田仔院士签署战略合作协议。
On the afternoon of June 8, 2021, Secretary-General Sun Wansong, on behalf of IUIA, signed a strategic cooperation agreement with Academician Jiang Tianzai, Director of the Brain Network Group Research Center of the Institute of Automation, Chinese Academy of Sciences.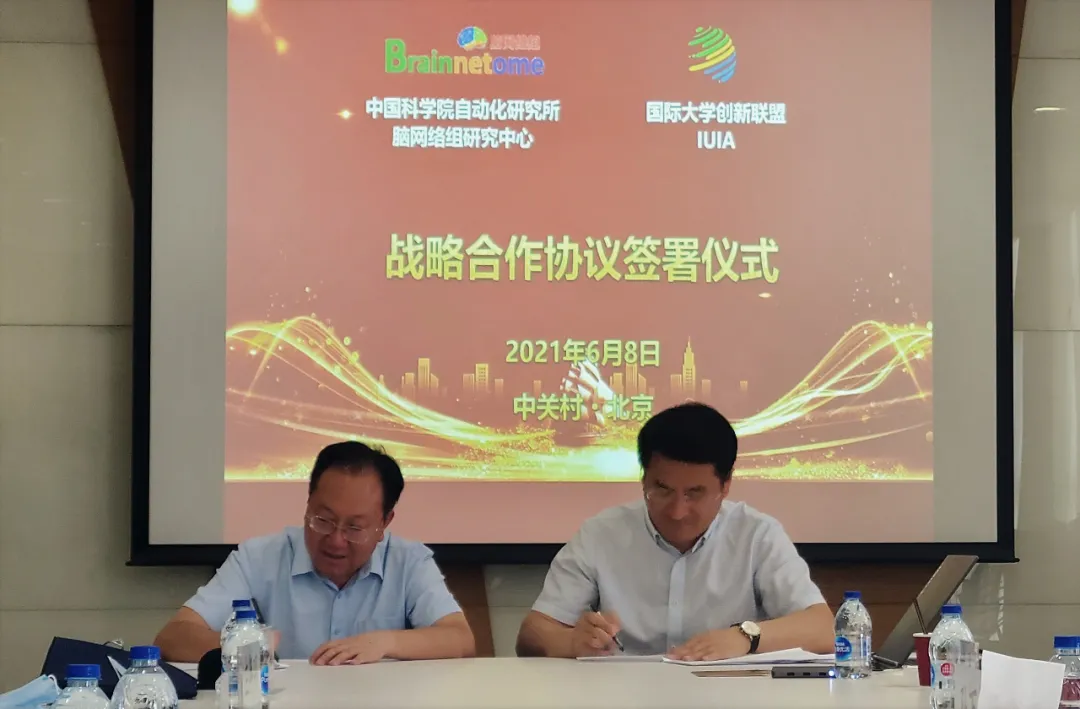 双方同意达成紧密战略合作关系,依托葡语及英语系国家及"一带一路"双边和多边机制,以及国际大学创新联盟(IUIA)的全球创新资源,联合国际组织(如联合国教科文组织UNESCO等)、国际一流高校、著名金融投资公司等,共同打造脑健康与智慧医疗产学研合作试验区。未来双方将在脑科学领域的国际合作、新型研发机构和跨境产业加速孵化等方面开展紧密深入合作。
The two sides agreed to establish a close strategic partnership with the Portuguese-speaking and English-speaking countries, according to the Belt and Road Initiative bilateral and multilateral mechanisms, as well as the global innovation resources of IUIA. We will cooperate with international organizations (such as UNESCO, etc.), world-class universities, and famous financial investment companies to jointly build an industry-university-research cooperative experimental area for brain health and smart medical treatment.
In the future, the two sides will carry out close and in-depth cooperation in the fields of international cooperation in brain science, new research and development institutions and accelerated incubation of cross-border industries.

IUIA股东代表国润资本董事长王鹏威先生,澳门东西汇投资股份有限公司投资管理及业务拓展总监庄博文先生等出席签署仪式
IUIA shareholders represented Mr. Wang Pengwei, Chairman of China Resources Capital; Mr. Zhuang Bowen, Director of Investment Management and Business Development of Macau East West Investment Co., Ltd., attended the signing ceremony
背景介绍 / Background
中国科学院自动化所成立于1956年10月,是我国最早成立的国立自动化研究机构和最早开展类脑智能研究的国立研究机构。
The Institute of Automation, Chinese Academy of Sciences (IAS), founded in October 1956, is the earliest national automation research institute in China and the first national research institute carrying out brain-like intelligence research.
自动化所同时是"脑科学与智能技术卓越创新中心"的依托单位之一,"十三五"科教基础设施项目"脑认知功能图谱与类脑智能交叉研究平台"的法人建设单位,也是国内首个"人工智能学院"牵头承办单位,具有从智能机理、智能芯片、智能算法到智能系统完整的学科分布和优势领域。六十多年来,自动化所为我国"两弹一星"等国民经济建设、社会进步、科技发展和国家安全做出了重要的贡献。
The Institute of Automation is also one of the supporting units of the "Center for Excellence in Brain Science and Intelligent Technology", the legal person construction unit of the "13th Five-Year Plan" science and education infrastructure project "Brain Cognitive Function Atlas and Brain-like Intelligence Cross Research Platform", and the first "artificial intelligence institute" in China. The Institute works in intelligent mechanism, intelligent chip, intelligent algorithm, intelligent system complete discipline distribution and superiority field. For more than 60 years, the Institute has made important contributions to the national economic construction, social progress, scientific and technological development and national security, such as "two bombs and one satellite".
脑网络组研究中心是自动化所所级科研部门,成员主要来自模式识别国家重点实验室、脑网络组北京市重点实验室,在脑科学、人工智能、医学图像处理和模式识别方面具有雄厚的积累,处于国际领先水平。
Brain Network Group Research Center (BNG) is a scientific research department of the Institute of Automation. Members are mainly from the National Key Laboratory of Pattern Recognition and the Beijing Key Laboratory of Brain Network Group. It has accumulated abundant resources in brain science, artificial intelligence, medical image processing and pattern recognition, and is at the international leading level.
现有研究员3人(2人为百人计划引进人才),副研8人,助研4人,工程技术人员12人,博士后4人,研究生及国内外的访问学生70多人,从事理工医多学科交叉的研究,长期致力于脑网络组图谱绘制、脑网络的计算方法与建模等方面的研究,在Nature Medicine, Nature Machine Intelligence等国际顶级刊物发表系列原创研究成果。
At present, there are 3 research fellows (2 of them are the talents introduced by the "Hundred Talents Program"), 8 associate research fellows, 4 research assistants, 12 engineering and technical personnel, 4 postdocs, and more than 70 graduate students and visiting students in China and abroad. Scientists are engaged in interdisciplinary research of science and medicine, and has long been committed to the research of brain network group mapping, brain network calculation methods and modeling, etc, and has published a series of original research results in international top journals such as Nature Medicine and Nature Machine Intelligence.
在硬件平台方面,中心拥有超级计算集群,提供企业级的并行计算和存储设备支持。在科研成果转化方面,孵化出中科搏锐科技有限公司,从事脑信号检测设备的市场化,A轮融资估值4亿元。
In terms of hardware platform, the center has a supercomputing cluster, which provides enterprise-class parallel computing and storage device support. In terms of the transformation of scientific research results, the company has incubated Casibrain Technology Co., Ltd., which is engaged in the marketization of brain signal detection equipment. The A round of financing is estimated at 400 million yuan.